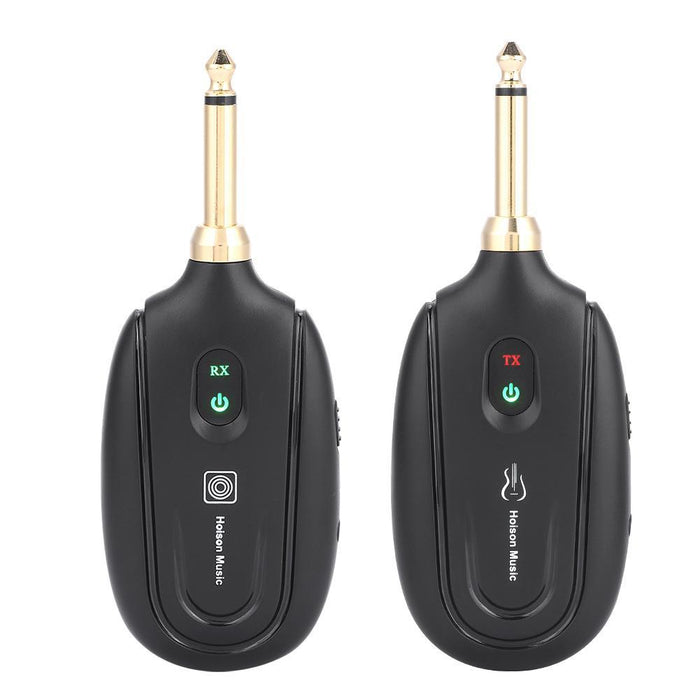 Hoison M7 Wireless Guitar System Built-in Rechargeable Lithium Battery Digital Transmitter Receiver for Electric Guitar Bass (5 Channels)
- Support 5 sets of devices working at the same time, one-to-one
- Wireless transmitter & receiver set for electroacoustic musical instruments like guitar, bass, etc.
- UHF original sound transmission, anti-interface and ultra-short delay
- Delay time within 4mS gives you wonderful music experience
- Comes with a USB cable, built-in 700mAH Li-battery
- Plug and play, simple to use, easy to carry
-  ( 2 adaptors for each order will be shared in your packages)
Wireless transmitter and receiver can be used for electroacoustic instruments such as guitar, bass, violin and so on.
Support 5 groups of equipment to use at the same time, the maximum transmission range up to 30 meters.
570mhz acoustic transmission, anti-interference, ultra-short time delay.
Built-in rechargeable lithium battery, long working time, equipped with USB cable, easy to charge.
Plug and play, easy to use, small size, light weight, easy to carry.
Equipped with 6.35mm female revolution 3.5mm revolution connector, it can be used for small audio equipment with 3.5mm input socket and electronic equipment such as mobile phone and computer.
Color: black
Audio response range: 20hz-20khz
Frequency: 570 MHZ to 579 MHZ
Transmission range: maximum range 30m (barrier-free)
Transmission delay: less than 4ms
Battery: 3.7V, 700mAh (transmitter and receiver)
Charging time: 2h
Continuous use time: 7h
Charging port: micro USB
Product size: 118 * 45 * 15mm / 4.6 * 1.8 * 0.6in (transmitter and receiver)
Item weight: 40g / 1.4ounce (transmitter and receiver)
Package size: 150 * 110 * 55mm / 5.9 * 4.3 * 2.2in
Package weight: 214g / 7.5ounce
1 * Transmitter
1 * Receiver
1 * 6.35mm to 3.5mm Adapter
1x transmitter
1x receiver
1x USB cable
The M7 wireless system features digital wireless technology that delivers great audio quality, simple setup, and is extremely reliable for any gigging musicians.The guitar tone in great detail with only 4ms of latency. This wireless system operates with clear broadcasting, ensuring the integrity of your signal on stage. The Li-ion batteries help makes the wireless system environmental protection, and can last up to 4 hours per charge. Recharge time is approximately 2 hours. The chassis is made out of a durable ABS plasticthat can withstand the rigors of touring and the harshest of climates. This wireless is a perfect fit for any pedal board thanks to its simplistic, and compact design. So, go wireless with the M7 system. It'll declutter the stage and offers freedom for any musician using a 1/4 inch plugin.
 SHIPPING INFO
Due to high demand and handmade production, orders usually take about 8-12 business days to process and deliver. 

Please be patient, we are doing our very best to fulfill every order that we receive!
If you aren't in LOVE with your purchase, just let us know within 30 days, and you'll receive a stress-free refund.